Personality Parts™
😎 😊 😮 😣
😑 😠 😜 😈
Know Yourself in Depth
With the Next Generation of Personality Psychology
Influenced by theory from Jungian Psychological Type, Myers-Briggs®, Jungian Analyst Dr John Beebe, TA (Transactional Analysis), Transpersonal Psychologist Prof. John Rowan, modern consciousness research and more.
Whereas most common systems of human personality assume that we each have a single unitary personality, Personality Parts™ is grounded in our everyday experience of subtly different but recognisable sub-personalities or Parts which each of us express across everyday situations.
We may recognise these Parts through internal exchanges or conflicts (e.g. part of me wants this, part of me wants that) or through our experience of family members and others we know very well (oh, they're being like THAT again!).
We find ourselves frequently in the grip or flow of these parts, acting out distinctly different characters on auto-pilot, in response to people and environments.
Building on the ground breaking work of Dr John Beebe from the last 30 years it is now possible to map a predictable set of Parts that are most noticeable in people of specific personality Types.
Personality Parts™ introduces a full spectrum of 64 Parts, which are potential ways for each of us to develop our minds.
---
Personality Parts™ Discovery Weekend
Suitable for coaches, counsellors, therapists, psychologists or any individual wishing to deepen their self-awareness and develop their understanding of the mind and relationships. CPD certificates available on request.
What you get:
An online psychological type assessment in advance, with printed report on the weekend.
A full weekend learning with Richard and applying the Personality Parts™ model.
Space for everyone in the group to share and explore individual experiences.
Handouts describing key aspects of the model.
Powerful, deep insights into your life and relationships.
Two free followup online group meetings with Richard (at 2 and 6 weeks) to consolidate learning.
Special discounts on further 1-1 coaching with Richard.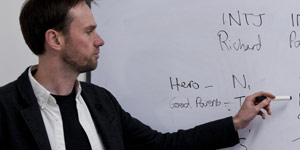 On this course you will learn a new model for understanding the human mind. It will help make sense of your self-experience and internal processes - both conscious and non-conscious - and how each play out in relationships. The model is grounded in a range of existing theories, uniting and expanding them from an exciting new perspective
We explore both the light and shadow sides of personality, recognising personal strengths and challenges, and how we grow and change over time. Special sections of the weekend are devoted to examining stress triggers and reactions, plus how to deal with them more effectively. We also look at the dynamics of Personality Parts™ in relationships; why people sometimes clash and how we can understand each other better.
Before the weekend you will be sent an assessment to complete online at home. Over the weekend you will get to apply the theory to yourself in a practical way, exploring the parts of your personality and how they influence your daily life.
In a small group, with a friendly, supportive and confidential environment; participants will be able to share stories if they wish, in order to deepen the learning of the group and get real life examples of personalities in action.
Richard Owen will deliver the course with a blend of teaching, coaching and interactive engagement.
The same entire course is running on two different weekends, just choose the weekend most convenient for you.
19 - 20 January 2019, LONDON
Course:
Personality Parts™ Discovery Weekend
Venue:
Clapham North Arts Ctr, London, SW4 6DH
Time:
10am to 5pm each day
Capacity:
6 people maximum
Price:
£ 190 per person,
£ 130 earlybird
before 3 Dec
Click the button to book your place now...
2 - 3 February 2019, BRIGHTON
Course:
Personality Parts™ Discovery Weekend
Venue:
Open Market Mezzanine, Brighton, BN1 4JU
Time:
10am to 5pm each day
Capacity:
6 people maximum
Price:
£ 190 per person,
£ 130 earlybird
before 3 Dec
Click the button to book your place now...
Once you have made your payment on Paypal, your booking is confirmed. We will receive notification from Paypal. This site does not send a further automated response.
Important
Personality Parts™ Discovery Weekend is an educational personal development experience and not a therapy or treatment for those overwhelmed by serious emotional or mental health difficulties. The course includes an honest and objective exploration of the less comfortable parts of ourselves. If you are not sure whether this is right for you, please ask your therapist or health professional, and contact Richard through the form.
Feedback From Previous Courses
I learned more about myself in these few hours than I have in a lifetime of searching. I thoroughly recommend it!
Brilliant course to help understand your values and how you think, feel and work. Because of this I understand what I need in a good relationship. I can see where things have worked and not worked
I learned all about where myself and others are coming from. I now feel able to "return" to my core values and pay less attention to those that I was brought-up to follow, this is hugely encouraging and inspiring.
Fascinating and enlightening, yet down to earth and practical... I particularly liked how non judgemental and even celebratory of differences your approach was. It has definitely helped me understand others better, communicate more effectively and be much more tolerant.
I would recommend the course to anyone who is interested in self awareness and developing a greater understanding of why they react to situations in the way they do. It is a very powerful tool to enhance self understanding.
Invaluable in understanding why others react and interact in the way they do, I see others with more understanding and less frustration now - really insightful.
Any Questions?
Just use the contact form on this page and Richard will respond within 24 hours.
About Us
Richard Owen MSc is a qualified business psychologist and coach. His unique expertise in personality assessment and depth psychology will help guide you on a fast track to real transformational change.
---